The Society was formed in 1957. In the early years the members enjoyed singing madrigals and short choral pieces suitable for the small group, and occasionally joined with the Essex Musical Association and other societies, including the Ipswich Singers, to perform larger scale works.
WE

REHEARSE

at the Witham United Reformed Church, CM8 1AH, from 7.45pm until 9.45pm every Tuesday in term time.
If you would like to come and sing with us do come along to rehearsals on Tuesdays at 7.45 pm at the United Reformed Church, Newland Street, Witham. To find directions click here
For over 50 years the Society has grown progressively under the leadership of seven Music Directors, with Patrick McCarthy joining us in 1995. Each has contributed enthusiastically to the Society's musical life and development and, together with the warmth and passion for singing of the members, the Society has developed and maintained an integrity which has kept it in the fore of choral tradition in the area.
One of our notable choral events was a much praised performance of Elgar's Dream of Gerontius at the renowned Snape Maltings Concert Hall, when we combined with the Ipswich and Colchester Bach Choirs and the Colchester Philharmonic. In 2007 we celebrated our 50th Anniversary Year with a full programme of choral works. These included performances of the Verdi and Brahms Requiems and later in the year, in our exchange with the Evangelische Singgemeinde of Weinheim, two performances of Beethoven's Mass in C and Christ on the Mount of Olives.
We again visited Snape Maltings Concert Hall in 2008 and 2010 to perform Handel's Solomon and Israel in Egypt respectively, combining with the Ipswich Bach Choir and Dovercourt Choral Society, bringing together some 170 singers to perform these two memorable works. Witham Choral has also appeared several times at the Harwich Festival, in Haydn's Creation in 2013, Carmina Burana in 2014, HMS Pinafore in 2015 & Faure Requiem in 2016. We join them again this year for a Last Night of the Proms – more details about the programme on this website.
Witham Choral Society is a registered charity No. 261704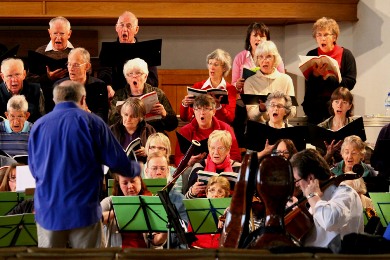 Read about how Patrick stepped up to save the Prom at the Royal Albert Hall on our Personnel Page (bottom right article) follow the link here to the page The clip was also on BBC4 recently, included in the programme 'Andre Previn the BBC Years'.
THIS

YEAR

, 2017, WE

ARE

CELEBRATING

THE

60TH

ANNIVERSARY

OF

THE

CHOIR

!
In 2015 we celebrated 20 years with Patrick at the helm
Photographs (below) taken at Witham Public Hall as Patrick celebrated 20 years of conducting the choir, including this lovely cake.